Welcome to
"Small Place, Big Time!"
About Us | Schedule | Menu | Links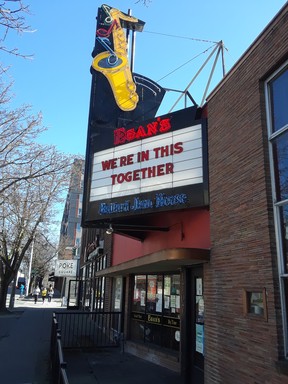 ---
Egan's Ballard Jam House is dedicated to the cultivation of small venue performance and innovation in the jazz club and acoustic music showcase tradition. We also have a great dinner menu! All ages are welcome until 11:00pm.
Contact Us At:
1707 NW Market Street
Seattle, WA 98107

Phone: 206-789-1621

Click [HERE] to see a map to Egan's
To reserve seats for a specific show email reservations@ballardjamhouse.com with your request or call our main number during business hours. Check our Schedule Page for details
If you are interested in performing at Egan's email booking@ballardjamhouse.com
For general information email info@ballardjamhouse.com
Thanks for your interest! Hope to see you soon!
---
Hours of Operation
Since we are in the business of hosting shows our hours of operation depend on the date and time the shows are scheduled for. Most performances are Thu-Sat. Check our Schedule Page for information about upcoming shows.
If we have a 7pm show we open to the public at 6pm. A 7pm show usually ends at 8:30pm or possibly a bit later if it's the only show of the night.
9pm shows will usually run until 10:30 or so.
9:30pm shows will run until 11pm.
We start shutting down for the night after the last show of the evening ends.