Welcome to

"Small Place, Big Time!"
About Us | Calendar | Menu | Photos | Links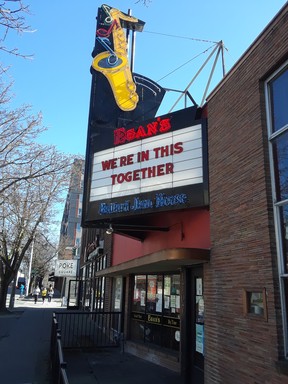 Egan's Ballard Jam House is dedicated to the cultivation of small venue performance and innovation in the jazz club and acoustic music showcase tradition. We also have a great dinner menu! All ages are welcome until 11:00pm.
Contact Us At:
1707 NW Market Street
Seattle, WA 98107

Phone: 206-789-1621

Click here to see a map to Egan's
For general information send email to info@ballardjamhouse.com
For information about performance booking, send email to booking@ballardjamhouse.com
For dinner or performance reservations, call our main number during business hours or send email to reservations@ballardjamhouse.com
Thanks for your interest! Hope to see you soon!
---
Hours
NOTE: Closing times are approximate. We start a slow shutdown after the last show of the evening ends. It's also a good idea to check our schedule - we may not be open at all if we don't have any shows booked for the evening.
Monday: CLOSED
Tuesday: CLOSED
Wednesday: 6pm - 11pm
Thursday: 6pm - 11pm
Friday: 6pm - 11pm
Saturday: 6pm - 11pm
Sunday: CLOSED